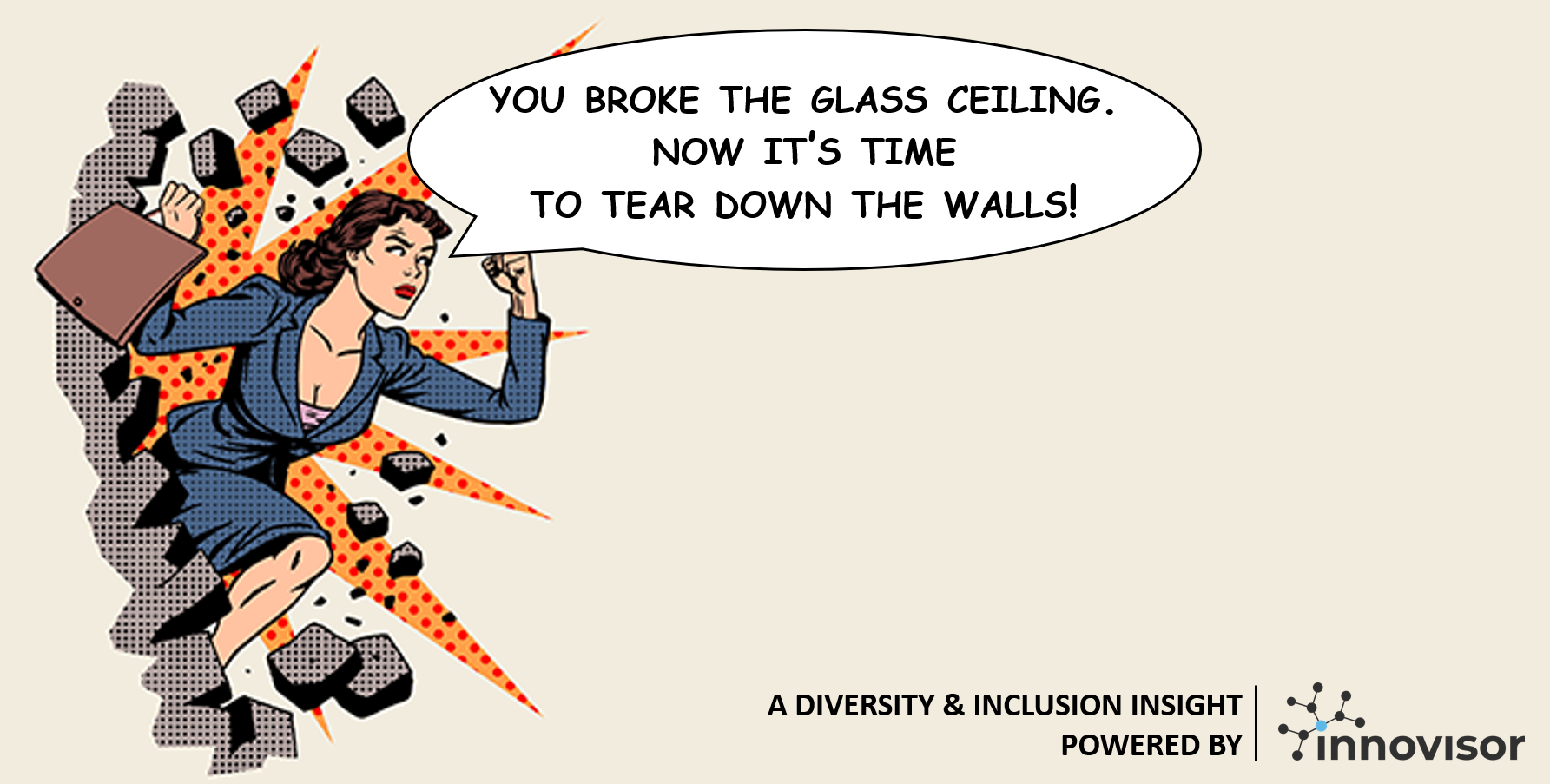 YOU BROKE THE GLASS CEILING. NOW IT'S TIME TO TEAR DOWN THE WALLS
With an increasing focus on gender ratios in leadership roles, we have all become aware just how few women hold managerial roles in many industries. One of the industries that is traditionally dominated by men is the Automotive industry.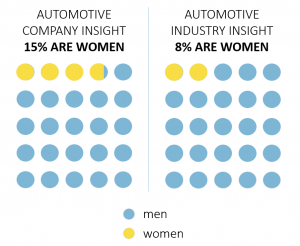 When we recently diagnosed a client in the Automotive industry, we were therefore not surprised to see that the percentage of women in the workforce decreases steadily as we move up the hierarchical levels. Yet, with an average of 15% women in managerial roles, the client was doing almost twice as well as the rest of the companies in the Automotive industry.
A leading gender diversity consultancy recently published the Global Gender Balance Scorecard for the Automotive industry. They concluded that women only accounted for 8% of the executives in the top 20 automotive companies in the Fortune Global 500 and that over half of those companies did not have a single woman on their executive teams.
Considering these numbers, the client seemed to be on the right track towards a more balanced gender ratio.
Organizational Network Analysis reveals hidden gender issue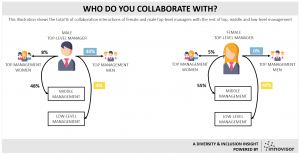 When we started diagnosing the real organization and its collaborative relationships, we however revealed a problem behind the numbers of the gender headcounts. Collaboration patterns showed that female top-level managers did not collaborate at all with their male peers, and only moderately with each other. The numbers behind this were shocking:
0% of the women on top-level management collaborated with men on top-level management – whereas men on top management collaborated 40% with other men on top-level management
40% of the women on top-level management collaborated with low-level management – whereas men on top-level management only collaborated with low-level management in 4% of the cases
What does this tell us? Male top-managers tend to collaborate horizontally with both genders, while female top-managers tend to collaborate vertically with a bias towards other women.
"Clearly, gender diversity issues persist beyond the glass ceiling".
Women's Leadership Programs do not address the issue
Although Women Leadership Programs are becoming more and more popular, they seem to differ very little in terms of what they focus on. Top universities such as Yale, Stanford and INSEAD all offer such programs, and according to their websites their focus is on developing personal leadership styles and skills, as well as connecting with other female leaders. Put differently, the focus lies on integration with lower levels and integration with other women, respectively.
Of course, these programs are a step in the right direction towards increasing the number of women in managerial positions. The questions are:
what happens next?
Where is the effort to help female leaders integrate into a team that is already dominated by men
What about the effort by male leaders to help integrate their new female peers?
Our analysis of this recent client in the Automotive industry tells us that
breaking the glass ceiling is not enough, it is also crucial to tear down the walls!
Thanks go out to our two business analysts, Sanne and Peter, for this amazing work.